"ये कैंचिया क्या पर काटेंगी मेरे
हम परों से नही, हौसलों से उड़ते है"
Meet Sarvesh, an ace photographer, independent photojournalist, having experience of serving leading media houses like Hindustan Times, TOI, India Today and more, mountaineer, Gold & Bronze medalist in pistol shooting, Godfrey Award winner with various other accolades in her name!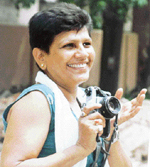 She quotes these beautiful and motivating lines with a vibrant and 'full of life' smile. By
कैंचिया (scissors)
she means all the negativities of society/hurdles of life, by
पर (wings)
she means her dreams and desires to fly high...and by
हौसला (courage)
she means her inner strength to fight against all the odds and emerge as winner.
She believes nothing under this sky can ever stop her from accomplishing her dream of leading an independent life...Because its not the Dream which keeps her going...Its the Courage!
Knowing Sarvesh
But the Sarvesh you see in picture above is a lot different than she was born and brought up. Like any other Baniya girl from small town of India, she had long hair, habit to stick her eyes on the ground while walking, talking, eating or doing anything else. In her own house, she had witnessed perfect examples of Gender Biasness on routine basis. She was married (obviously without asking for her permission) at the age of 18, to an older man! This was not the first time her dreams were perished! She had turned used to it.
As a bride or daughter-in-law, she wasn't welcomed at all. An unending series of abusive practices by her in-laws and husband had turned her life worse than a nightmare. Her infertility (inability to give birth to a child) had obiously added to her troubles. Her husband was all set to marry again and this made her even more unwanted there! She was house arrested in her in-laws home and had no road to return back because her parents had already shut all the doors for her. Her life had turn a dark tunnel, with no hope of light at the end of it.
But, life isn't as unfair as we name it. After 10 years of this darkness, finally the light came to give Sarvesh a wakeup call. It was just another incident she had turned used to...Already! But, it managed to knock the door of her self respect, which had been hiding in the farthest corner of that darkest tunnel.
In that incident, her husband beat her in front of another man, on his complaint! That is where she decided to cut all the shackles of marriage off and walk out in search of a better life...Or should I say, in search of just life.
Life without a shelter
November 15th 1988 was the remarkable day in her life, when she left her in-laws home. She had got married in 1975. "You don't forget the dates of independence and accidents, right!" she says it with a lively smile. Of course, she means independence for the first and accident for the latter, of course!
However, the decision of leaving that house for her was tough but life after that was even tougher. The doors of her parents home had always been closed for her. Here she started her battle, all alone without a roof over her head!
She stayed in Saheli, A home for women like her and that is where she started fighting with her inner fears. "I remember every second of the first night I spent outside of my parent's and in-laws' homes. I couldn't sleep for a single moment. But next day when I woke up, I had figured out that I was nothing but a Frog in the well and this was unacceptable for my innerself now! That gave me all the courage to stand for myself" Says Sarvesh.
The turning point-Making of Sarvesh the award winning photojournalist
जुनून की शुरुआत...शुरुआत एक नए सफर की
How many of us remember when we cut our hair for the first time? Quite a few...But she does! Sarvesh told that during her days in Saheli, she was given a camera (a traditional one with roll) by a person named Alok. He was the person, who encouraged her to explore photographer. Her hands shivered while holding the camera for the first time and she had no faith in herself that one day she would ever be able to operate it...And after years of hard work, sleepless nights loaded with camera practice and unbreakable passion, she was introduced to the country as a photographer, who cannot be unnoticed! Her photographs had started speaking for her...Here are few glimpses...
Uttarkashi Earthquake, over 50 pictures printed in different major national newspapers.
Kargil War, over 100 pictures published in major national newspapers and magazines.
Gujarat Earthquake and drought.
Extensively covered Indo-Pak & Indo-Bangladesh borders
Riots in Sitamarhi Bihar and Moradabad in UP
Kumbh Melas at Haridwar and Allahabad
The famous Nanda Raj Jat Festival in Uttaranchal
Delhi, Bihar flood
Coal mines of Dhanbad, Jhariya and Raigarh
Palace on Wheels (Train)
Laddakh Festival and Himalayan Car Rally
Indian Women Commandos
Coal mines
These are just a few, Sarvesh didn't leave the camera since the day she held it for the first time she held it as a gift...And yes, that was the day when she cut her long hair, for the first time...ever!
Awards and recognitions
Sarvesh had banged I & B Ministry award for her photograph on Kargil war and loads of other awards from different NGOs for numbers of her pictures either exhibited in popular exhibitions or published in leading newspapers and magazines.
Apart from her achievements at a photojournalist, she has achieved a lot more in other different areas where generally women are not expected (as well as accepted) to do well! Take a look:
Honored by Hindi Academy
Godfrey Award 2008
Rotary Club of India Award in 2010
Honored by various NGOs
One of twelve women achievers covered by Sony TV in 2006
Featured on 'Laakhon Mein Ek' – TV program telecasted on Star Plus in Dec 2012
Her story was covered by electronic media in the form documentary.
Featured in leading newspapers and magazines.
Won Gold and Bronze medal in Tughlakabad Shooting range for pistol shooting
She is a brilliant mountaineer, Climbed up to 17,400 feet in Uttaranchal
She stood for herself and fought for the tough decisions she made in her life. She is still fighting, against everlasting lonesomeness, ailed mentality of people in Indian society and daily struggle of her life. By doing this, she not only gets more courage to go on against all the odds, but also gives a strong message to every woman of this country to be brave, courageous and stand for their self respect.
What makes her a true MARDAANI
She dared to flip the other side of the coin and today, she is leading altogether a different life. A lady draped in saree and entangled in her own hairlocks is now free like a bird, she travels across the borders, captures moments and drives a two wheeler with pride. She isn't a prisoner for anyone, she isn't dependent on anyone...She knows how to walk alone and make her presence felt and leave inspiring remarks behind!
Her ability to say NO to an abusive life and fight for a better one makes her a true Mardaani. Her passion towards building a career and zeal to keep going against all the odds turns her exemplar for other women. She is a courageous women and she is firm towards her decisions in life. She never ever looked back rather bravely faced all the challenges that came into her way while moving AHEAD!
Sarvesh has seen darkest days one could ever imagine of. She still has memories of those events secured in her brain. But, she never feels afraid of discouraged by those memories. She rather uses them as a fuel to gear up her stamina and keep going.
Despite of spending a considerable amount of time with negative and dark people, she has remained untouched by their impact on her behavior. She still is a vibrant beam of light... A lady with positive attitude, courageous personality and vibrant smile.
That is what makes her true MARDAANI
Her future goals
At the age of 58, Sarvesh is going strong. She has a long TO-DO-LIST...
She wants to climb Mount Everest. World's highest peak, of course!
She wants to ride a bike to Khardung La in Leh, Laddakh (18300 feet)... If she does, she would be the first women to do this at her age.
Her constant aim is to motivate women in India and abroad to stand for themselves and fight against the odds. She wants to travel the whole world with her camera...and if possible on a two wheeler..Ah! What a full-of-life heart she owns :)
I wish her all the best for all her existing dreams and wish her more dreams for upcoming days of her life.
***
I respect this MARDAANI for her Courage, Bravery, Strength to Survive against all odds, her fight for her self respect and determination to never look back!! Do you?
PS: If you wish to say anything to Sarvesh through this post...Please feel free to drop your comments below or you can also send me an email... bloggerpiyu@gmail.com
PPS: I sincerely wish to thank Blogadda and makers of Mardaani for giving me this opportunity to cover this motivating story of this wonderful woman. Meeting Sarvesh is an encouraging and memorable ever experience for me.